What are Hybrid Learning Pods?
Serving rising kindergarten through 4th-grade students, the NEW Hybrid Learning Pods are designed to support Scarsdale and Harrison students with an academic workshop and a variety of enrichment and camp program activities. We provide options for a 2-day, 3-day, and 5-day enrollment.
The Mohawk Country Day School (MCDS) has served students in preschool through 6th grade for the last 60 years. MCDS is a licensed private school under the New York State Department of Education and currently serves students through 1st grade.
The Benefits of Hybrid Learning Pods
Outdoor classroom environment.
Full-time Health Director to ensure student health & safety.
School Director to properly hire, train, supervise, and coach teachers.
School Director available to meet each student's needs and appropriately manage student behavior as necessary.
Daily cleaning and safety procedures.
Students enjoy enrichment classes including physical education, art, farm & garden, music, and a rotation of programs by season (i.e. Nature, MakerSpace, Outdoor Adventure, BrainStorm).
Program & Tuition Options
Click links for more information.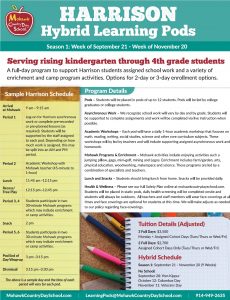 Questions?
For more information, please email learningpods@mohawkcountrydayschool.com or click to Schedule a Call with a Director
Quick Links
2020-2021 MCDS Safety Plan & Operating Playbook
2020-2021 MCDS Parent Handbook